Raising a Support Ticket
The way to raise a support ticket for any issues you are experiencing with your SureCloud platform is to email our dedicated support team via success@surecloud.com. These issues can be anything from trouble navigating the platform up to issues surrounding the configuration of your solution.
How Support Tickets are Dealt With
Support tickets raised via success@surecloud.com will come straight into our designated support platform. Here we have a list of each support request raised. Each ticket is assigned a unique number and will be dealt with by the relevant team or an individual within that team. Once a ticket has been raised, an initial reply will be sent back to you within 4 working hours. From then on, you will receive an update on the status and progress of your support request every 24 hours until a resolution has been found. (Note: Our working hours for support are 9-5 Mon-Fri).
How to Structure a Support Ticket
When putting together an email to send to our support team, it is imperative that the ticket contain sufficient information surrounding the problem so that support requests can be quickly and properly investigated. Including all of the following will reduce the need for back-and-forth for further information before the investigations into the underlying issues can begin and will ensure that a support ticket is dealt with as quickly and efficiently as possible:
Description: A detailed description of the exact nature and breakdown of the type of support required.
Screenshots: Screenshots of the following are incredibly helpful when investigating support tickets:
The breadcrumb to a form with an issue - if we know where to locate the problem from the start, we won't need to ask or look blindly ourselves.
The specific part(s) of any form(s) affected - If we can see exactly what you can see, we can often more easily diagnose an issue, or at least where the issue may be.
Dashboard portlets - We don't have access to your 'Classic' dashboard or any dashboards which have not been published by their creator. As a result, screenshots of dashboards are always helpful.
Dashboard Configuration - While we can subscribe to dashboards, we cannot see the configuration of dashboard we haven't created. Hence, if you are having dashboard issues, a screenshot of the configuration behind any portlets you are having issues with are always helpful.
Emails: The email addresses of all users who are being affected by any user administration issues are always necessary. We may not be able to find users if you only provide us with their name.
Additional Information: Any additional information surrounding the issue which may help us to resolve it as quickly as possible.
An Example of a Model Support Ticket (Dashboard Issue):
Hi Support,
One of my dashboard portlets is not displaying any data. The portlet in question is named "My Open Tasks Status (Pie)" and exists within our "Compliance Manager" dashboard.
This is the view I currently have of the portlet:
The dashboard has the following configuration set-up: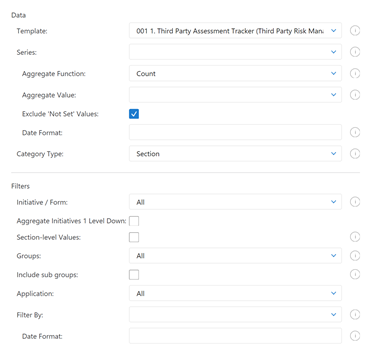 Just to mention, the portlet was working perfectly fine before my colleague Henry altered the "Aggregate Function" section of the configuration earlier today, so I suspect this may be the issue we are having. He may know what he changed this from and to and his email is henry.the.eighth@example.com.
Thanks in advance.
An Example of a Model Support Ticket (Issue with specific form):
Hi Support,
I am having an issue with a data breach assessment. One of my team members cannot submit their form. The form in question is related to breach ID R0001-A08.
As you can see, the 'Submit' button is not enabled and the user tells me they believe they may not have answered all of the questions correctly.
Thanks in advance.
A screenshot of the form is shown below: